Self-produced, the record's sonics were key to its success. As evidenced by the greater information and finer details found in this analog edition's grooves, the polished, sleek, and open sound works hand-in-hand with the arrangements. Hall and Oates' knack for stylish tones, instrumental placement, and edgy accents has never been clearer – literally or figuratively. This LP is nothing short of a game-changer.
By the dawn of the 1980s, Hall and Oates had already released more than a half-dozen albums and attached themselves to a folk-pop model they gradually took in blue-eyed soul directions. Hints of a pop/new wave/R&B amalgamation initially appear on 1979's X-Static, but only fully come into play with confidence, conviction, and commercial flair on Voices. Arriving upon a near-flawless fusion of dance grooves, soft rock rhythms, smooth vocals, romantic sentiments, catchy beats, and spotless hooks, the collaborators simultaneously crossed over into multiple markets and eradicated stylistic boundaries.
Rightly recognized for its four hit singles – the irresistible "Kiss on My List," building "You Make My Dreams," cover of the Righteous Brothers' "You've Lost That Lovin' Feeling," and original rendition of the poignant "Every Time You Go Away," which Paul Young took to the top of the charts years later – Voices towers as both an 80s masterpiece and all-time pop classic.
Independent of the ubiquitous fare, the record holds up courtesy of the deep-album cuts. There isn't a weak note or false move to be found. Hall and Oates paint "United State" with uptempo assertiveness; "Big Kids" passes as first-rate new-wave rock; "Diddy Doo Wop (I Hear the Voices)" pays loving tribute to the duo's doo-wop influences; "Gotta Lotta Nerve (Perfect Perfect)" oozes emotional rawness.
Track Listing
How Does It Feel to Be Back
Big Kids
United State
Hard to Be In Love With You
Kiss on My List
Gotta Lotta Nerve (Perfect Perfect)
You've Lost That Lovin' Feelin'
You Make My Dreams
Everytime You Go Away
Africa
Diddy Doo Wop (I Hear Voices)
Music Vinyl LP's
Coming Soon - Pre-order Now
You don't need to be 'Old & Wise' to know this is an absolute essential!
Mastered from the original master tapes, Mobile Fidelity's RTI pressed 180g 45RPM 2LP and hybrid SACD versions of Eye in the Sky feature succulent warmth, magnificent balance, low-end heft, and see-through transparency that take you into the studio with Parsons at Abbey Road Studios. Each note seems perfectly placed, every sequence painstakingly considered. Boasting front-to- back depth, concert-hall-level separation, realistic presence, and bang-on accuracy, the reissues illustrate the lasting importance of perfectionist-minded engineering and recording techniques. These releases will test the capabilities of the world's finest stereo systems. There's more information, more texture, more nuance— more of everything to be experienced. British progressive rock would never again sound so sophisticated, suave, or steady.
#338 on Rolling Stone's 500 Greatest Albums of All Time: Big Brother and Joplin Convey Fearlessness, Toughness, and Synergy on Every Note
In many facets, Big Brother and the Holding Company's Cheap Thrills is the quintessential album to spring from the outcome of the Summer of Love. Best known as Janis Joplin's major-label debut, the 1968 set arrived when the countercultural movement was in full swing and before co-optation, drugs, and violence signaled the fall of the era. Ranked #338 on Rolling Stone's 500 Greatest Albums of All Time, it puts a female singer in the prominent position traditionally given to a male and showcases a band pouring a potent cocktail of fiery psychedelic, blues, and folk sounds that informed the unfettered creativity of the San Francisco scene. Produced by John Simon, Cheap Thrills also features one of the most iconic and elaborate album covers in history.
Diverse Set Encompasses Ballads, Waltzes, Hard-Swinging Bop
Bill Evans catapulted to the top of the jazz world in June 1961 after reeling off three straight masterpiece sessions at New York's Village Vanguard with his trio. Yet the emotional highs came to a screeching halt shortly thereafter when bassist Scott LaFaro died in a car accident. Devastated, Evans refrained from playing for nearly a year. If not for an inspirational collaboration of tremendous creative outpouring, one wonders what fate may have befallen Evans. Undercurrent, the outcome of two studio sessions with guitarist Jim Hall, is that project.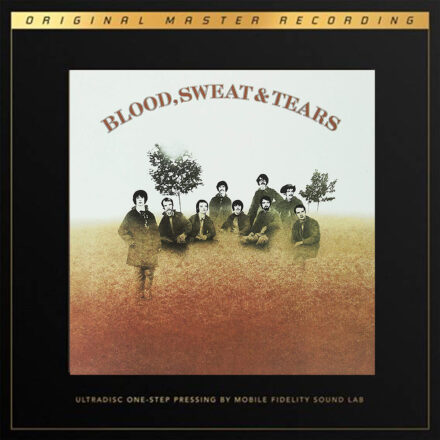 AVAILABLE TO PREORDER NOW
Very Limited Availability
Don't call it a comeback. Not only did Blood, Sweat & Tears' eponymous album establish new precedents for musical fusion and record production upon release in late 1968, the quadruple-platinum set marked a new commercial beginning for a cross-cultural group nearly decimated months earlier when its prominent co-founder, Al Kooper, departed along with two other members. The resultant sophomore effort simply went on to top the charts for seven straight weeks, earn the Grammy Award for Album of the Year, spawn three successive Top 5 singles, and land the group a headlining slot at Woodstock. No wonder its reputation remains golden among listeners, particularly audiophiles, which have never experienced the hybrid fare in more vibrant fashion than on this collectible reissue.
Strictly Limited to 3,000 Copies
Understated 1962 Debut Launched Immeasurably Influential Career: Inspired by Woody Guthrie and Blues Legends, Clearest Connection to Dylan's Purist Folk Roots
Made when mono was still king, Bob Dylan's self-titled 1962 debut is as understated of an entrance as any significant musician as ever made. Already well-versed in American roots music, Dylan simultaneously pays homage to tradition and extends it by putting his own stamp on classic material that metaphorically functions as the soil of our contemporary songs and styles. Free of ego, and performed with masterful conviction, Bob Dylan ranks with the debut efforts of similar artistic giants Elvis Presley and the Rolling Stones.