Nano Crystal² Formula (NCF) body
The CF-601m NCF uses a body design that incorporates NCF material. This resin contains nylon, fiberglass, piezoelectric ceramic particles, carbon powder to make the ultimate damping material. This is injected into the rhodium-plated copper contacts and treated α (alpha).
Used in some Furutech products, NCF is a special crystalline material with "active" properties. First, it generates negative ions that eliminate static electricity. Secondly, it converts thermal energy into far infrared. Furutech combines this material with nanometric ceramic particles and carbon powder for their piezoelectric damping properties.

Cryogenic and demagnetization α (Alpha) process
Using state-of-the-art technology and materials, Furutech has developed a two-step process that significantly improves the performance of the conductive material. The treatment starts during the manufacturing process with a deep cryogenic step of all metal parts. Using refrigerants such as liquid N2 or He, Furutech reaches temperatures between -196°C and -250°C. The treated parts change their molecular structure, relieving internal stresses. The molecules bond more tightly together, and the overall structure becomes more stable. This results in improved electrical conductivity for better signal transmission.
The second step of the process exposes these same parts to the patented demagnetization treatment, optimized to act on the entire material and further improve conductivity.
Product type
Male XLR connector
Conductors material
Pure copper, NCF injection
Contacts plating
Rhodium
Process for metal parts
α (Alpha)
Body material
NCF Resin
Stainless steel
Mounting
To screw or solder
Max cable diameter
Ø10mm
Max conductors section
Braided conductors : 2.08mm² (14AWG)
Solid conductors : 3.3mm² (12AWG)
Max conductors diameter
Ø2.1mm
Recommended tightening torques
Conductors mounting screws : 25cN•m (2.55kgf-cm)
Body fixing screws : 30cN•m (3.06kgf-cm)
Max solder temperature
~ 425°C (15s max.)
GENERAL
Dimensions
Ø18.6 x 64.6mm
Weight
46.9g
Conditioning
Unit
RCA & XLR Connectors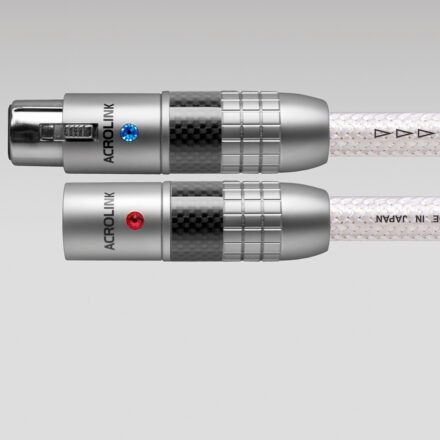 MEXCEL has a single goal: To master new and unprecedented territory for audio cables. Since its appearance in 2004, MEXCEL brought major innovation to the field of audio cables. Mitsubishi Cable Industries, developer of cables for the aerospace and defense industries, teamed up with audio cable specialist ACROLINK for this endeavor. Joint development by those two companies and ESOTERIC has given birth to MEXCEL cables delivering flat transmission characteristics with a wide frequency range going beyond the gigahertz frequency zone. The tremendous information volume carried by gigahertz frequency zone transmission has combined with high-purity 7N Cu (99.99999%) to unleash the potential of audio systems, transcending established concepts for analog and digital transmission cables. Now the fourth generation of MEXCEL cables is here as the result of our quest for a ultimate musical expression. We have now reached a new milestone with products destined to spur a tide of change never before seen in the history of audio cables.