evc_row]
MCRU have taken the design of our Excelium and Excelsior DC blocking mains power leads and added some special modifications to improve sound quality and also allow the unit to be used in-line with your existing power leads/cables.
DC on the mains can result in excessive transformer hum in your amplifier, it also robs the music of life and vitality, often you never realize its present as only by removing it can you hear the immediate benefits which can often be astounding.
We have available a technical paper showing the results using the DC blocker here.
The construction consists of a non resonant metal case fitted with a Furutech gold plated IEC inlet to attach your own power cord/cable, a short length of Furutech mains cable terminated with Furutech FI-11 gold plated IEC connector allows connection to your existing equipment. We have extensively modified/tweaked the design to improve sound quality still further using internal filters. The DC blocker can also be supplied with a 16 amp IEC should you require it.
The unit is designed to be used on mains conditioners, mains regenerators, power bars and also on individual items of equipment, in particalur amplifiers whether they are monoblocks or integrated designs we have found all benefit from the removal of DC from the mains.
The MCRU Ultimate DC Blocker is also available with a full mains lead going in and out should you require that option, 3 metres long in total.
WHEN CHOOSING YOU CONFIGURATION THE OPTIONS ARE LISTED BELOW…………….
OPTION A ….STANDARD IEC INLET, SHORT LENGTH OF CABLE WITH STANDARD C15 IEC CONNECTOR
OPTION B ….16 AMP (C19) HIGH CURRENT IEC INLET, SHORT LENGTH OF CABLE WITH C19 HIGH CURRENT IEC CONNECTOR 
OPTION C ….UK MAINS PLUG (FURUTECH) TO STANDARD IEC CONNECTOR WIRED WITH 1.5 METRES OF CABLE EACH SIDE
OPTION D ….UK MAINS PLUG (FURUTECH) TO 16 AMP HC IEC CONNECTOR WITH 1.5 MERES OF CABLE EACH SIDE
OPTION D ….EU SCHUKO MAINS PLUG (FURUTECH) TO STANDARD IEC CONNECTOR WIRED WITH 1.5 METRES OF CABLE EACH SIDE
OPTION E ….EU SCHUKO MAINS PLUG (FURUTECH) TO 16 AMP HC IEC WIRED WITH 1.5 METRES OF CABLE EACH SIDE
The Ultimate Range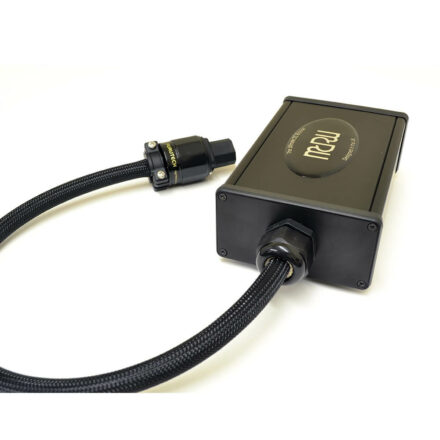 1 unit silver case ex-dem
Mint condition with warranty
Furutech FI-11G IEC plug
Furutech FI-06G IEC inlet
[/vc_row]