Noise in mains wiring can be transmitted and induced in many ways, some are easier to deal with than others. As a result, many power conditioners are not completely effective. ISOL-8s Transmodal filters effectively attenuate all modes of transmitted and induced mains noise, without dumping it to ground, so you can be sure that your system benefits from the cleanest possible power.
The PowerLine Ultra 6 Way has the same filter and feature set of the Ultra, but with adds two extra sockets. One additional socket for high power loads and one additional socket for audio source components.
Specification
| | |
| --- | --- |
| Number of Available Outlets | 6 |
| Type of Outlets Available | 13A British chassis sockets |
| Power Input | IEC fused socket (Cable not supplied) |
| Mains Voltage | 230VAC version for 220-240VAC |
| Maximium Current | 10A maximum (IEC versions) |
| Construction | Aluminum top plate "titanium" anodise. Powder coated steel chassis |
| Dimensions (W x H x D) | 400 x 83 x 88mm (excluding connectors) |
| Weight – Item | 1.70 KG |
Mains Blocks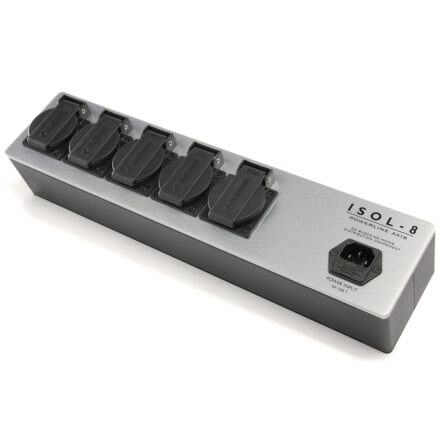 1 unit available ex-dem with UK Sockets. Please note Mains cables are not supplied. The PowerLine Axis provides an innovative cure to the problem of DC on the mains supply. In theory the mains waveform should be pure AC: a perfect, symmetrical sine wave. In practice the waveform can arrive at the end user clipped, distorted and asymmetrical with a significant DC voltage component. The AC transformers commonly found in equipment power supplies cannot, by nature, tolerate significant DC without being compromised. The PowerLine Axis has five high quality outlets served by a network that re-centres the voltage axis of the mains waveform. This eliminates any DC voltage on the mains power supply, suppressing mechanical hum and liberating performance.