Mastered from the original master tapes, pressed on MoFi SuperVinyl at RTI, and strictly limited to 10,000 numbered copies, Mobile Fidelity's UltraDisc One-Step 180g 45RPM 2LP box set of From Elvis in Memphis unearths the ravishing inner detail, sticky rhythms, and brilliant arrangements of Chips Moman's inspired production. In short, this unparalleled reissue unlocks the spirit and gestalt of the recording and takes you inside American Sound Studio. It also brings you up close and personal with Presley's singing – widely considered by many to represent the finest of his career – located dead-center amidst the instrumental hurricane. Equally impressive are the contributions of the aforementioned Boys, and how their Southern-brewed playing – a balance of leisure with swiftness, grandiosity with concision, freedom with control – dovetails with Presley's vernacular.
The lavish packaging and gorgeous presentation of the UD1S From Elvis in Memphis pressing befit its extremely select status. Housed in a deluxe box, it features special foil-stamped jackets and faithful-to-the-original graphics that illuminate the splendor of the recording. No expense has been spared. Aurally and visually, this UD1S reissue exists as a curatorial artifact meant to be preserved, pored over, touched, and examined. It is made for discerning listeners that prize sound quality and production, and who desire to fully immerse themselves in the art – and everything involved with the album, from the images to the finishes.
Sharing much in common with the full, rich, orchestrated Stax Records sound, From Elvis in Memphis oozes with choice nuances and distinctive flourishes that on this ultra-hi-fi edition not only arise with previously unheard transparency and sharpness, but complement and serve the whole. Take the specific tonalities and blending of violas, cellos, and horns that communicate mood and serve as counterpoints. Or lively performances of the backing quintet, and how the piano and Hammond organ trace the lines of the melodies and Presley's lead. Listen to the uplifting support provided by the cadre of backing vocalists (more than a dozen credited), unrivaled in Presley's canon and a precursor to the approach he'd soon adopt in Las Vegas.
Of course, From Elvis in Memphis precedes the icon's transition into his glitzy jumpsuit phase – and follows his merciful move away from the hoary soundtrack work that consumed nearly a decade of his creative life and prompted a rebirth that began in 1968. As the bridge between eras, the record seizes on Presley's rejuvenated attitude and commitment to quality, facets that drip from the fervency with which he delivers every word. For the same reasons, and for the fact it traces back to Presley's original roots and hip-shaking guise, the album further remains a cornerstone of American music history.
Writing about the work's 40th anniversary for Rolling Stone, James Hunter correctly observed: "From Elvis in Memphis represented the full-on immersion in the Memphis idea of Elvis Presley, the American singer second only to Frank Sinatra for the ability to conjure a particular sonic universe with his merest vocal utterance. And from the album's first song, in which a bluesy Elvis espies a woman 'Wearin' That Loved On Look,' to its last, in which a more straight-up-pop Elvis regrets the injustices of life 'In the Ghetto,' his fully engaged, newly energized voice finds its most logical album setting in years."
Incredibly, Presley and company completed more than two dozen cuts for From Elvis in Memphis. One, "Suspicious Minds," turned into the vocalist's final chart-topping single and lingers as one of his most beloved rock n' roll numbers. Even though it never formally appeared on the record, the non-album song is included here as a bonus track and attains newfound depth, energy, and swagger. Coupled with the other dozen tracks – including the sultry "Power of My Love," balladic take of Dallas Frazier's "True Love Travels on a Gravel Road," and driving cover of Hank Snow's I'm Moving On" – it makes for the finest Elvis listening experience available.
MoFi SuperVinyl
Developed by NEOTECH and RTI, MoFi SuperVinyl is the most exacting-to-specification vinyl compound ever devised. Analog lovers have never seen (or heard) anything like it. Extraordinarily expensive and extremely painstaking to produce, the special proprietary compound addresses two specific areas of improvement: noise floor reduction and enhanced groove definition. The vinyl composition features a new carbonless dye (hold the disc up to the light and see) and produces the world's quietest surfaces. This high-definition formula also allows for the creation of cleaner grooves that are indistinguishable from the original lacquer. MoFi SuperVinyl provides the closest approximation of what the label's engineers hear in the mastering lab.
More About Mobile Fidelity UltraDisc One-Step and Why It Is Superior
Instead of utilizing the industry-standard three-step lacquer process, Mobile Fidelity Sound Lab's new UltraDisc One-Step (UD1S) uses only one step, bypassing two processes of generational loss. While three-step processing is designed for optimum yield and efficiency, UD1S is created for the ultimate in sound quality. Just as Mobile Fidelity pioneered the UHQR (Ultra High-Quality Record) with JVC in the 1980s, UD1S again represents another state-of-the-art advance in the record-manufacturing process. MFSL engineers begin with the original master tapes and meticulously cut a set of lacquers. These lacquers are used to create a very fragile, pristine UD1S stamper called a "convert." Delicate "converts" are then formed into the actual record stampers, producing a final product that literally and figuratively brings you closer to the music. By skipping the additional steps of pulling another positive and an additional negative, as done in the three-step process used in standard pressings, UD1S produces a final LP with the lowest noise floor possible today. The removal of the additional two steps of generational loss in the plating process reveals tremendous amounts of extra musical detail and dynamics, which are otherwise lost due to the standard copying process. The exclusive nature of these very limited pressings guarantees that every UD1S pressing serves as an immaculate replica of the lacquer sourced directly from the original master tape. Every conceivable aspect of vinyl production is optimized to produce the most perfect record album available today.
Track Listing
Side A
Wearin' That Loved On Look
Only the Strong Survive
I'll Hold You in My Heart (Till I Can Hold You in My Arms)
Long Black Limousine
It Keeps Right On A-Hurtin'
I'm Movin' On
Power of My Love
Side B
Gentle on My Mind
After Loving You
True Love Travels on a Gravel Road
Any Day Now
In the Ghetto
Suspicious Minds
Music Vinyl LP's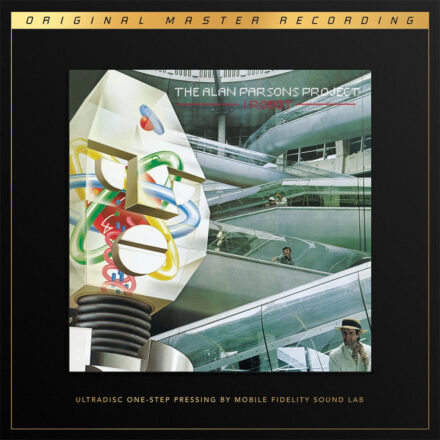 IN STOCK NOW!!
MASTERED FROM THE ORIGINAL MASTER TAPES: ULTRADISC ONE-STEP LP ELEVATES THE AUDIOPHILE STANDARD WHILE OFFERING ONE-FLIP CONVENIENCE Most audiophiles know Alan Parsons Project's
I Robot
by heart. Engineered by Parsons after he performed the same duties on Pink Floyd's
Dark Side of the Moon
, the 1977 record reigns as a disc whose taut bass, crisp highs, clean production, and seemingly limitless dynamic range are matched only by the sensational prog-rock fare helmed by the keyboardist. Not surprisingly, it's been issued myriad times. Can it be improved? Relish Mobile Fidelity's stupendous UltraDisc One-Step 180g 33RPM box set and the question becomes moot.