New for 2023!
Acoustic Sounds Series reissues from Verve/Universal Music Enterprises!
Monthly releases highlighting the world's most historic and best jazz records!
Mastered by Bernie Grundman from the original analog tapes
180-gram LPs pressed at Quality Record Pressings!
Stoughton Printing gatefold old-style tip-on jackets
Series supervised by Chad Kassem CEO of Acoustic Sounds
Seeking to offer definitive audiophile grade versions of some of the most historic and best jazz records ever recorded, Verve Label Group and Universal Music Enterprises' audiophile Acoustic Sounds vinyl reissue series utilizes the skills of top mastering engineers and the unsurpassed production craft of Quality Record Pressings. All titles are mastered from the original analog tapes, pressed on 180-gram vinyl and packaged by Stoughton Printing Co. in high-quality gatefold sleeves with tip-on jackets. The releases are supervised by Chad Kassem, CEO of Acoustic Sounds, the world's largest source for audiophile recordings.
Track Listing
Side A
Black Coffee
Angel Eyes
I Cried For You
I Can't Give You Anything But Love
Then You've Never Been Blue
I Hadn't Anyone Till You
My Melancholy Baby
Side B
Misty
September Song
One For My Baby (And One More For The Road)
Who's Sorry Now
I'm Getting Sentimental Over You
Reach For Tomorrow
Music Vinyl LP's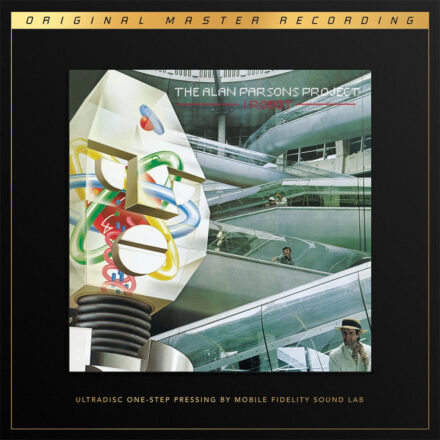 IN STOCK NOW!!
MASTERED FROM THE ORIGINAL MASTER TAPES: ULTRADISC ONE-STEP LP ELEVATES THE AUDIOPHILE STANDARD WHILE OFFERING ONE-FLIP CONVENIENCE Most audiophiles know Alan Parsons Project's
I Robot
by heart. Engineered by Parsons after he performed the same duties on Pink Floyd's
Dark Side of the Moon
, the 1977 record reigns as a disc whose taut bass, crisp highs, clean production, and seemingly limitless dynamic range are matched only by the sensational prog-rock fare helmed by the keyboardist. Not surprisingly, it's been issued myriad times. Can it be improved? Relish Mobile Fidelity's stupendous UltraDisc One-Step 180g 33RPM box set and the question becomes moot.