RACHMANINOFF: SYMPHONIC DANCES; VOCALISE (RM-1504)
Eiji Oue/ Minnesota Orchestra
33 1/3 rpm, Half-Speed Mastered, 200 gram virgin vinyl from Quality Record Pressings in gatefold jacket
FIRST TIME EVER ON LP!
Widely believed to be the finest orchestral recording RR has ever made.
Sergei Rachmaninoff was one of the most beloved composers of the twentieth century. His music is redolent of his Russian homeland, and it sings long, lush melodies that define the term "romantic." Everyone who knows and loves his piano concertos will enjoy these lyrical and dynamic works for orchestra. The "Symphonic Dances" in recent years have become one of Rachmaninoff's most-performed scores. "Vocalise" is one of the great classical melodies, and is hummable by everyone. Grammy® Nominated 2002– Best Engineered Album – Classical; Keith O. Johnson, engineer
A few of the dozens of reviews of this recording (original CD release) are quoted below!
"Picked by THREE reviewers of The Absolute Sound magazine for a GOLDEN EAR AWARD (best releases of 2001):
"Even by the exalted standards one has come to expect from Reference Recordings, this is something extraordinary. . . This is the kind of recording that gives one renewed faith in the possibility of reproducing the power and beauty of an orchestra in a home environment, the kind of thing that makes audio worthwhile. Not to be missed." — Robert E. Greene, TAS
"Keith Johnson's HDCD recording captures the sound of Orchestra Hall with stunning impact. Like the best EMI recordings of the 1960s, the musical and technical qualities of this release are linked inextricably to its success. Quite a remarkable achievement." – Lawrence Vittes, GRAMOPHONE
"The playing by the Minnesota Orchestra is simply stupendous: tremendously unified ensemble, immaculate balances that let you hear all the important lines, and a palpable sense of enjoyment from the players (those trumpet players rule!)." –Victor Carr, Jr., ClassicsToday.com
"I must admit to a thrill when RR packages arrive at the office. . . Once again, Keith Johnson has raised the bar of excellence in the recording of a symphony orchestra. . . It's a fabulous recording and a super performance of the SYMPHONIC DANCES, and a testament to the brilliance of Keith Johnson and his associates." — Anthony Kershaw, Audiophilia.com
"Other versions I know . . . lack the energy, excitement, the involvement and conviction of Eiji Oue's performance. Keith Johnson's engineering, mastering and production have, in this case, produced the finest orchestral recording I have ever heard. It is instantly among that handful of CDs I will carry with me to audition sound systems, or that I will play to show off my own. Listening to this recording is one of those exultant musical experiences that will remind you why you got into the audiophile game in the first place." — Russell Lichter, Soundstage.com
Music Vinyl Lp's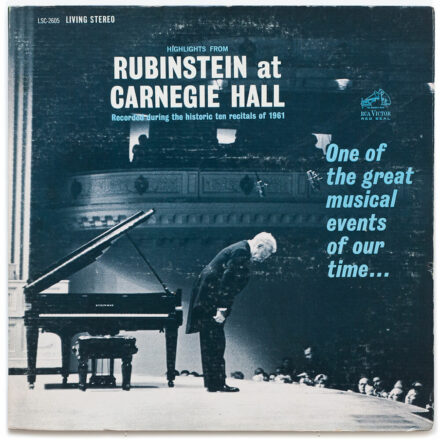 RCA Living Stereo classical LPs - the gold standard for top quality orchestral performance and sound! Remastered from the original master tape and cut at 33 1/3 RPM by Ryan Smith at Sterling Sound Lacquers plated by Gary Salstrom and pressed on 200-gram vinyl at Quality Record Pressings! RCA Living Stereo Reissue Series No. 2 - 25 newly-remastered classical mainstays!