Desperado seams to speak to a universally human theme – the notion that at heart we are all drifters, always searching in life for ever-elusive goals such as stability, companionship, belonging, and satisfaction. Marrying cohesive western-themed arrangements to conceptual narrative devices, the Eagles' 1973 album also hits on a tried-and-true American principle: The West, and the freedom, promise, and danger it has represented throughout U.S. history. Ambitious yet accessible, deep but direct, Desperadoremains a towering influence on country rock and a crucial piece of the Eagles' development and evolution.
Track Listing
Doolin-Dalton
Twenty-One
Out of Control
Tequila Sunrise
Desperado
Certain Kind of Fool
Doolin-Dalton
Outlaw Man
Saturday Night
Bitter Creek
Doolin-Dalton/Desperado
Mastered from the original analog master tapes, Mobile Fidelity's numbered-edition hybrid SACD pays tribute to the record's significance and enhances the experience for generations to come. Playing with reference sonics that elevate an effort forever held dear by audiophiles, it provides a lively, dynamic, transparent, balanced, and intimate view of a release whose contemporary importance continues to grow. The opportunity to zero in on the particulars of the Eagles' golden harmonies, distinct vocal timbres, and interplay between acoustic and electric instruments has never been better.
By design, Desperado is a record where appearances also matter. Originally conceived as an album revolving around western motifs that involve outlaws, it saw the group dress up as cowboy exiles for a famous front cover shot taken by photographer Henry Diltz. The back cover is even more notable. A reenactment of the capture and death of the Dalton Gang, it displays the quartet as well as collaborators Jackson Browne and J.D. Souther bound on the ground. Standing above the band, a group of lawmen – including Johns, manager John Hartmann, and others – exudes pride. Staged at Paramount Ranch in Malibu Canyon, the project also involved the making of a short film that accented the album's commentary about the Eagles' loss of innocence in the face of music-biz machinations.
Metaphorical parallels between outlaws and rock stars carry through nearly every song. And still, the record retains a charm and ease many enterprising sets lack. Writing for Rolling Stone in 1973, Paul Gambaccini rightly observed: "The beautiful thing about it is that although it is a unified set of songs, it is not a rock opera, a concept album, or anything pretending to be much more than a set of good tunes that just happen to fit together."
None combine for a more memorable impact than the brilliant title track (recorded with the London Philharmonic Orchestra, cited by Rolling Stone as one of the 500 Greatest Songs of All Time, and sung by Henley in an unvarnished voice) or "Tequila Sunrise," a shot of courage that triggered Henley-Frey's collaborative partnership – one that endured for more than four decades. Also not to be missed: The four- and six-string workouts kicking up dirt on "Doolin-Dalton" and waltz signatures of "Saturday Night."
Desperado would do a slow burn on its way to Rock & Roll Hall of Fame-worthy status. Its era-spanning longevity and reappraisal within critical circles seemingly mirror the agelessness of its most famous songs, which remain staples in the band's concert staples to this very day. As much as any record in the band's catalog, it demands repeat plays. The folk-meets-California-rock feel, flawless craftsmanship, and organic choruses on everything from David Blue's "Outlaw Man" to "Twenty-One" (a smart reference to the age of Emmett Dalton when he got shot 23 times) practically jump out of the speakers now that Mobile Fidelity has managed to present the music in the cleanest, clearest sound it's ever enjoyed.
Music Vinyl LP's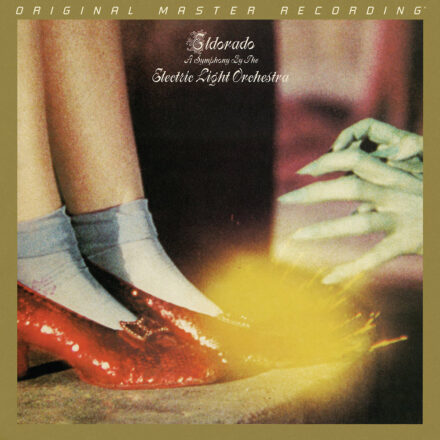 All MoFi SACD's play in standard CD players.
Electric Light Orchestra leader Jeff Lynne did more than figuratively reach for the sky on Eldorado. Daring to be bold, and creating imaginative worlds that invite the listener to escape the mundane, the visionary composer-musician achieved a multidisciplinary fantasia and, in the process, a prog-rock landmark. Nearly 50 years later, the concept album's brilliance can be experienced like never before in cinematic fashion.
NOW IN STOCK!!