Like few records before or since, the 1956 set owes as much to context and circumstance as it does instrumental execution. Years prior to his appearance in Rhode Island, Ellington had suffered lackadaisical record sales and a falling out of the public eye, as bop and hard bop supplanted tradition big bands. Yet in preparation for the event, Ellington worked on experimental ideas and a reshaping of some of his standards.
The iconic arranger/composer's foresight comes into fruition throughout the white-hot set, never more so than on "Diminuendo and Crescendo In Blue," on which tenor saxophonist Paul Gonsalves erases all rules and outlays a 27-chorus solo that left everyone in awe – and prompted them to stand on chairs, dance feverishly, and hoot and holler to an extent that caused Ellington to ultimately cool things off. The improvisational flight epitomizes boldness, freedom, risk, and, to the bandleader, an assuredly loud response to the critics that had believed his well was tapped.
The songs in advance of the climactic moment are no less exciting; Ellington and his 15-piece collective manhandle notes with ease, swinging and sliding through "Festival Junction" with a requisite balance of poise and panache, and kicking heels on "Newport Up" via Ellington's spry piano riffs, Jimmy Hamilton's spicy clarinet feeds, and Clark Terry's trumpet runs. In every way, Ellington at Newport is as quintessential as Kind of Blue, Giant Steps, and Way Out West.
And now, the 1956 classic can be experienced in an analog fidelity never before as authentic or transparent on any pressing. Mastered on our world-renowned mastering system and pressed at RTI, this numbered edition Silver Series LP of Ellington's triumph boasts tremendous separation, deeper low frequencies, clearer highs, and front-to-back dynamics. Horns blare with multi-hued color, the Duke's 88s ring out with treble finesse, and the rhythm section claims an added presence buried on previous editions. Musically and sonically, you need this LP. It's that simple.
Track Listing
Festival Junction
Blues to Be There
Newport Up
Jeep's Blues
Diminuendo and Crescendo In Blue
Music Vinyl LP's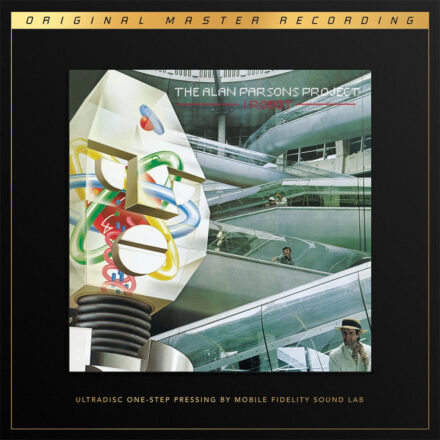 IN STOCK NOW!!
MASTERED FROM THE ORIGINAL MASTER TAPES: ULTRADISC ONE-STEP LP ELEVATES THE AUDIOPHILE STANDARD WHILE OFFERING ONE-FLIP CONVENIENCE Most audiophiles know Alan Parsons Project's
I Robot
by heart. Engineered by Parsons after he performed the same duties on Pink Floyd's
Dark Side of the Moon
, the 1977 record reigns as a disc whose taut bass, crisp highs, clean production, and seemingly limitless dynamic range are matched only by the sensational prog-rock fare helmed by the keyboardist. Not surprisingly, it's been issued myriad times. Can it be improved? Relish Mobile Fidelity's stupendous UltraDisc One-Step 180g 33RPM box set and the question becomes moot.