Mastered from the Original Master Tapes for Optimal Sound: SACD Engages with Natural Tones, Superb Balances, Reference Imaging, Sterling Clarity
Dire Straits' arresting self-titled debut arrived in the midst of punk's reign but couldn't have been further removed from the era's slash-and-burn style. Recorded in West London in February 1978, the band's tasteful, jazz-inflected set embraces folk, blues, and pub rock while also tracing a direct line back to the beat-oriented sound of early rock n' roll. Country and roots accents further distinguish the British quartet's stripped-down music from any 1970s peers, as does the transparent production, which has remained revered among audiophiles the world over – and which has never been better in digital than on this meticulous hybrid SACD.
Mastered from the original master tapes, Mobile Fidelity's numbered-edition SACD version of Dire Straits features natural tonalities, superb balances, you-are-there imaging, deep-black backgrounds, and pristine clarity. Even if you've heard this album hundreds of times before, you've never experienced it with such lifelike sonics and premium richness. This collector's set immerses you within the smoky, laidback atmospherics of every song. This is how all discs should sound.
Crucial to every arrangement, Mark Knopfler's winding guitar lines emerge with supreme transparency and multi-hued textural detail. His intricate playing comes across as if it's being transmitted via his 60s-era Fender Vibrolux amplifier placed right before you. The cleanliness, dimensions, and live feel are that good. Rhythms skate and swirl; percussive effects resonate with crispness and attack; the leading edges of notes naturally decay.
Dire Straits' strong, well-edited batch of original material further enhances the overall enjoyment and makes the record one whose pleasures go far beyond the organic sonics. Just as Knopfler's narratives pour forth with poetic and surrealist texts, the musical settings – an intoxicating combination of easygoing shuffles, back-hall boogies, and pop-honed ballads – mirror the old-fashioned soulfulness inherent in the classic recordings of the late 50s and early 60s. The lyrics are equally captivating.
Drawing from his time as a youth in Newcastle, Leeds, and London, Knopfler invests tunes with an autobiographical slant and emotional connectivity that become obvious the moment he opens his mouth to sing. "Down to the Waterline," "Wild West End," and "Lions" all feature colloquial touches that add to their reach. By extension, "In the Gallery" functions as a tribute to Leeds sculptor Harry Phillips (father of future Knoplfer collaborator, Steve Phillips) while the record's breakout smash, "Sultans of Swing," pays homage to struggling bar bands.
Through it all, Dire Straits performs with a subtle cool and clever poise that no band ever matched. Just how good is the chemistry? Bob Dylan heard the quartet and invited Knopfler and drummer Pick Withers to play on Slow Train Coming. But even Dylan himself didn't hear Dire Straits sound this magnetic back in its original heyday. Now, everyone can.
Track Listing
1. Down To the Waterline
2. Water of Love
3. Setting Me Up
4. Six Blade Knife
5. Southbound Again
6. Sultans of Swing
7. In the Gallery
8. Wild West End
9. Lions
SACD's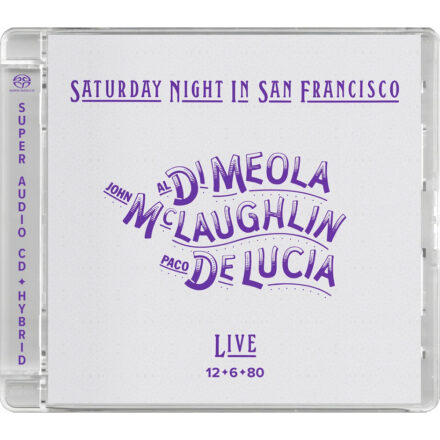 Audiophile SACD Never before released!!!
Assembled from the original 16-track analog live session tapes by Al Di Meola with engineers Katsu Naito & Roy Hendrickson Mastered from analog tapes by Bernie Grundman at Bernie Grundman Mastering Pressed at Record Technology Inc. Deluxe new packaging with never-before-seen photos Exclusive essay by Charles L. Granata feat. new interviews with Al Di Meola & original recording engineer Tim Pinch Long-Awaited Follow Up To Friday Night In San Francisco! From Original 16-Track Analog Live Session Tapes by Al Di Meola, Katsu Naito & Roy Hendrickson! Mastered From Analog Tapes by Bernie Grundman! Pressed at RTI!