There are hit records. And then there are blockbusters. One of the world's best-selling records, a winner of two Grammy Awards, an era-defining reference statement, an MTV favorite, and a set that catapulted an already-acclaimed band to arena status, Dire Straits' Brothers in Arms is the kind of epic spectacular that comes around only once or twice a decade. Surpassed only in fame and visibility during the period by Michael Jackson's Thriller, the 1985 album remains idiosyncratic for its covetable combination of adventurous songwriting, precision-based performances, and reference-caliber fidelity.
The sense of realism this edition delivers will leave slack-jawed even the most hard-to-please audiophiles. As the recipient of the Grammy for Best-Engineered Recording, the album has always been a go-to sonic standard, but never has it sounded so reach-out-and-touch-it realistic as it does on this analog pressing. All of the hallmark characteristics – ample spaciousness, ideal balances, widescreen dynamics, immersive depth, lush production – are here in spades. As is music-making of enviable proportions.
While it's easy to speculate that the colossal success of Brothers in Arms relates to its timing – its release during an era obsessed with catchy singles, flashy MTV videos, and whistle-friendly melodies – reasons for the album's chart-busting success primarily owe to the expertly crafted songs and memorable playing turned in by a group hitting its creative peak. Not to mention the spatial dimensions that cause instruments and vocals to naturally float in a fixed area.
Anchored by "Money for Nothing," a caustically themed smash immediately identifiable via Mark Knopfler's resonant finger-picked guitar riff and Sting's "I want my MTV" vocal refrain, Dire Straits' fifth album is stuffed with bluesy signatures, jazz-rock motifs, clever lyrics, and organic accents. Diversity and consistency also extend to the songs' moods. Singing with his trademark light-to-the-touch timbre, Knopfler conjures feelings of poignancy, peacefulness, and mellowness, channeling wistfulness on the Top 10 single "So Far Away" and somber assurance on "Why Worry."
Perfection abounds, not only in the manner in which the band nails its pop hooks and uptempo boogies with debonair flair – but also in the control room. Iconic session jazz drummer Omar Hakim supplies fluid beats and solid rhythmic foundations while Knopfler and Co. comb over grooves so smooth it seems that they're made of honey butter. Dire Straits would never play with such effortless again.
Track Listing
So Far Away
Money for Nothing
Walk of Life
Your Latest Trick
Why Worry
Ride Across the River
The Man's Too Strong
One World
Brothers in Arms
Music Vinyl LP's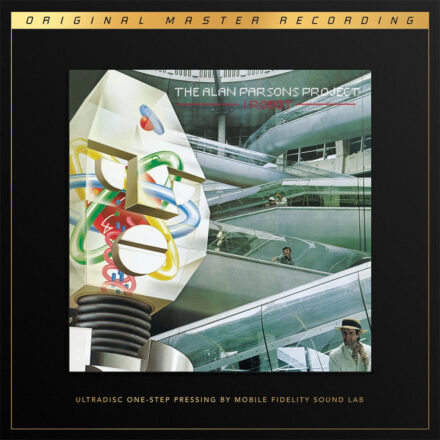 IN STOCK NOW!!
MASTERED FROM THE ORIGINAL MASTER TAPES: ULTRADISC ONE-STEP LP ELEVATES THE AUDIOPHILE STANDARD WHILE OFFERING ONE-FLIP CONVENIENCE Most audiophiles know Alan Parsons Project's
I Robot
by heart. Engineered by Parsons after he performed the same duties on Pink Floyd's
Dark Side of the Moon
, the 1977 record reigns as a disc whose taut bass, crisp highs, clean production, and seemingly limitless dynamic range are matched only by the sensational prog-rock fare helmed by the keyboardist. Not surprisingly, it's been issued myriad times. Can it be improved? Relish Mobile Fidelity's stupendous UltraDisc One-Step 180g 33RPM box set and the question becomes moot.