Sourced from the original analog master tapes and packaged in a mini-LP gatefold sleeve, Mobile Fidelity's numbered-edition hybrid SACD provides a transparent look into a record that birthed the Laurel Canyon movement and established a precedent for close harmony singing that has never been eclipsed. The organic presentation of the textures; expanse and depth of the soundstages; fullness of tones; natural extension of the acoustic guitar strings; realistic rise and decay of individual notes; seamless blending of the vocals – those important sonic facets (and more) reach demonstration-grade levels on this audiophile-quality reissue.
The backstory of how the quadruple-platinum Crosby, Stills & Nash came to be nearly matches the import of its content. Already a renowned multi-instrumental virtuoso, Stephen Stills sought a fresh beginning after Buffalo Springfield splintered. Similarly, vocal powerhouse David Crosby arrived after leaving the Byrds. Graham Nash drifted over after a frustrating stint in the Hollies. He met his new mates at a party. When the three sang together informally for the first time, their fate was sealed. To further tie their fortunes together, the singers used each of their surnames to identify the group to ensure the collective could not exist or continue on without all three members.
From the opening of the lead track, the multi-part "Suite: Judy Blue Eyes," written for Judy Collins, it's apparent the trio's dynamic cannot be replicated or substituted. Originally released in May 1969 on Atlantic, the eponymous debut cracked the Billboard Top 10 and spent almost two years on the charts. Such longevity can be credited to the distinctive traits each member lends to a record Rolling Stone cites as the 252nd Greatest Album of All Time. Stills trades in folk, country, and rock accents while handing a majority of the instrumental duties (organ, bass, and lead guitar included). Crosby paints with mood and atmosphere, as well as direct political commentary. Nash ties everything together with accessible pop melodies.
More than five decades later, the ensemble's mellifluous singing and homespun arrangements continue to soar. The evidence pervades Crosby, Stills & Nash, whose magnetism reflects in standards such as the breezy "Marrakesh Express," protesting "Long Time Gone," poignant "Helplessly Hoping," and poetic "Wooden Ships." No wonder the trio's chemistry – as well as the distinctive traits of each member's singing, interwoven guitar parts, and contrasting personalities – became a permanent part of an American culture dealing with conflicting themes of peace and war, love and violence, and change and status quo.
Track Listing
Suite: Judy Blue Eyes
Marrakesh Express
Guinnevere
You Don't Have To Cry
Pre-Road Downs
Wooden Ships
Lady of the Island
Helplessly Hoping
Long Time Gone
49 Bye-Byes
Music Vinyl LP's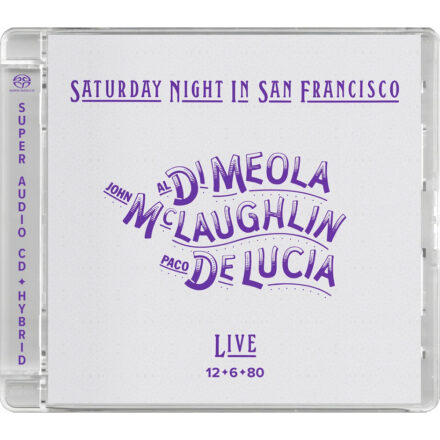 Audiophile SACD Never before released!!!
Assembled from the original 16-track analog live session tapes by Al Di Meola with engineers Katsu Naito & Roy Hendrickson Mastered from analog tapes by Bernie Grundman at Bernie Grundman Mastering Pressed at Record Technology Inc. Deluxe new packaging with never-before-seen photos Exclusive essay by Charles L. Granata feat. new interviews with Al Di Meola & original recording engineer Tim Pinch Long-Awaited Follow Up To Friday Night In San Francisco! From Original 16-Track Analog Live Session Tapes by Al Di Meola, Katsu Naito & Roy Hendrickson! Mastered From Analog Tapes by Bernie Grundman! Pressed at RTI!