Greatest-hits volumes are often hit-and-miss propositions not because of what they contain, but because of what's missing. Filtering the top selections from the six formative, life-altering albums Dylan made between 1963 and 1966 is an arbitrary process but one performed impeccably on this set. Home to his biggest chart successes as well as his most influential songs, Bob Dylan's Greatest Hits is a veritable template for any aspiring singer-songwriter, an American history lesson, and a seminal release for anyone new to his work – as well as for audiences that find some of his deeper cuts an acquired taste. Every signature facet of Dylan is represented, and done so authoritatively. Serious, protest folk anthems ("Blowin' in the Wind," "The Times Are A-Changin'") sit alongside defiant rock statements ("Positively Fourth Street"), landscape-changing epics ("Like a Rolling Stone"), beautiful blues-inspired odes ("I Want You"), and surrealist dreamscapes ("Subterranean Homesick Blues"). Infused with literary poetry, impassioned emotion, and career-making performances, this material doubles as a definitive account of American culture and society, and functions as a soundtrack to the era's social movements.
Gathered in one place, it's no wonder the songs here gave Dylan what remains the biggest-selling album of his career. Accept nothing less than the best version in existence.
Track Listing
Rainy Day Women #12 & 35
Blowin' In The Wind
The Times They Are A-Changin'
It Ain't Me, Babe
Like A Rolling Stone
Mr. Tambourine Man
Subterranean Homesick Blues
I Want You
Positively 4th Street
Just Like A Woman
Music Vinyl LP's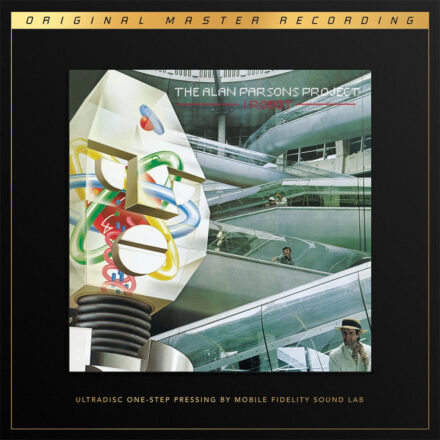 IN STOCK NOW!!
MASTERED FROM THE ORIGINAL MASTER TAPES: ULTRADISC ONE-STEP LP ELEVATES THE AUDIOPHILE STANDARD WHILE OFFERING ONE-FLIP CONVENIENCE Most audiophiles know Alan Parsons Project's
I Robot
by heart. Engineered by Parsons after he performed the same duties on Pink Floyd's
Dark Side of the Moon
, the 1977 record reigns as a disc whose taut bass, crisp highs, clean production, and seemingly limitless dynamic range are matched only by the sensational prog-rock fare helmed by the keyboardist. Not surprisingly, it's been issued myriad times. Can it be improved? Relish Mobile Fidelity's stupendous UltraDisc One-Step 180g 33RPM box set and the question becomes moot.