This high-performance record mat is made from a unique composite of India rubber, cork and leather. Its fine, granular composition keeps firm hold of every record played, whilst suppressing the resonance generated during playback.
The mat's dual-layer design makes it easy to adapt to different record thicknesses without needing to alter tonearm height (VTA) – use the first layer for audiophile-grade vinyl (180g), add the second for standard records (120g).
The result is the perfect coupling between record and platter – an utterly silent foundation, ensuring every drop of musical detail within the groove is delivered with unfettered clarity.
The mat has been enthusiastically reviewed by Hi-Fi World and also on the Art Of Sound Forum.
You can visit the Blue Horizon web site here.
Turntable Mats & Record Clamps
The HELOX reflex record clamp - creating an unique contact between record and platter surface. Providing a sonically outstanding step forward with ANY turntable. High contact pressure combined with the all-new concept of a liquid dampening clamp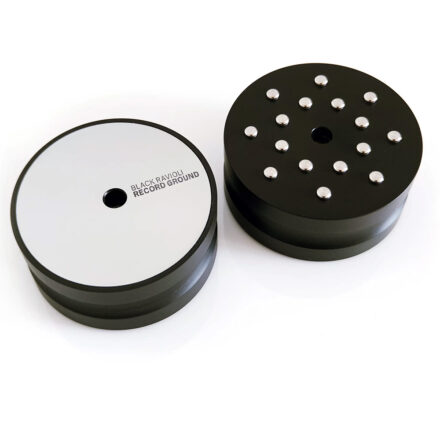 The Black Ravioli Record Ground dissipates the energy created by the stylus travelling through the record groove. Essentially grounding it, which results in improved sound quality.
Effective on most turntables including Linn LP12, Technics SL series, Garrards, and many more.